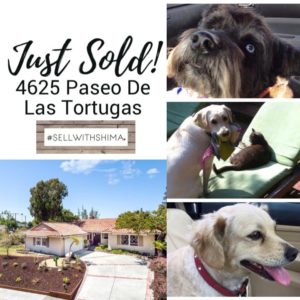 Kids come in all shapes and sizes and not all are in human form.
 No matter how big or small, they have a huge impact during the sell of a home.
Keeping the house clean is one of the most challenging task, but it's essential when trying to capture the right buyer!
A special thank you to Savannah, Toby, Sky, and Coco for dealing with strangers coming in and out of your home until we found Mom and 
Dad the perfect buyer!! I know you probably hated me dusting the couch and having to vacate the home during open houses/showings. Although it was a long and bumpy ride, WE did it! 
 You will be repaid soon with yummy treats. Also, a huge thank you to Matthew and Colleen for not only thinking of me when choosing an agent to represent you, but trusting me with the sale of your home and being patient throughout it all. Special thank you to our Title Rep, Melinda Andersen with Chicago Title Los Angeles for making it happen and Harbor Lights Escrow for all your help. Also, thank you Holly Kauff for your dedication and professionalism. Cheers!