29th Annual Family Halloween Carnival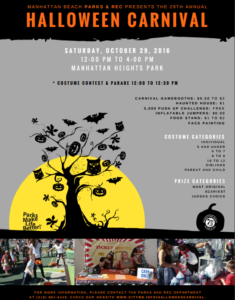 29th Annual Family Halloween Carnival
Join the Fun with After School REC and the Teen Center!
Date:
10/29/2016
12:00 PM - 4:00 PM
The Manhattan Beach Parks and Recreation Department's annual Family Halloween Carnival is held every October at Manhattan Heights Community Center located at 1600 Manhattan Beach Boulevard. The event is designed for children ages 2 to 13. Children under the age of 5 years old must be accompanied by an adult at all times. Past carnivals have included face painting, haunted house, food and game booths, and much, much more! All game booths are constructed by children in the After School REC Program and the haunted house is constructed and staffed by Teen Center staff and their teens. Download a copy of the Halloween Carnival flyer (PDF). Events, attractions, and costs are subject to change without notice.
Costume Contest and Parade 12:00 PM Costume Categories
Individual
5 and under
6 to 7
8 to 9
10 to 12
Siblings
Parent and Child
Prize Categories
Most Original
Scariest
Judges Choice
Carnival Booths $0.50 to $2.00 The carnival booth are games are made by the participants of the After School REC and Teen Center. Booths will be closed during the costume parade. Tickets are required.
Haunted House $1.00 Haunted house is $1 sponsored by the Teen Center. Haunted house will be closed during the costume parade. Tickets are required.
3,000 Push Up Challenge Free One of the mission statements of the Parks and Recreation Department is to "Promote Health and Wellness." To help instill that in our participants and promote that philosophy, we would like you to take the challenge and help us reach a NEW push up goal on the day of the carnival!
Inflatable Jumpers  $0.50 Tickets are required.
Food Stand $1.00 to $2.00 Pizza (pepperoni/cheese), water, juice, chips, granola bars, cotton candy, and popcorn. Tickets are required.
Face Painting
Price TBA
Information Tickets will be sold at the Information Booth. Each ticket costs $0.50. Bills over $20.00 will not be accepted.
For more information or to volunteer for this event, contact the Parks and Recreation Department at (310) 802-5448.